Benefit Concert in Aid of Renovation of the Parish Hall
Orgelkonzert, Frank Oidtmann mit Werken von
Johann Christian Heinrich Rinck (1770 - 1846)
Johann Ulrich Steigleder (1593 - 1635)
Christian Fink (1831 - 1911)
Johann Sebastian Bach (1685 - 1750)
Thursday January 24th 2019 - 06.00 pm
Heilig Kreuz-Kirche in Wiesenbronn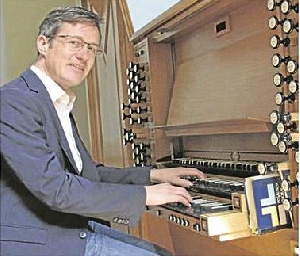 An der Orgel Frank Oidtmann, Musikdirektor am Evangelischen Stift Tübingen
Frank Oidtmann war nach dem Studium in Würzburg und Stuttgart sowie zahlreichen Meisterkursen zunächst Kirchenmusiker in Stuttgart. Er übernahm Aufgaben als Cembalist im Staatsorchester Stuttgart, als Organist beim Festival Eclat und als Dirigent an der Jungen Oper des Staatstheaters Stuttgart. Er übt eine rege Konzerttätigkeit als Organist und Klavierbegleiter aus, seine CD-Aufnahmen sind bei Animato und Antes erschienen. Von 2002 bis Mai 2015 war er als Bezirkskantor im evangelischen Kirchenbezirk Esslingen tätig. Hier ist u.a. die Gesamtaufführung des Bachschen Orgelwerkes in 13 Kirchen des Bezirks innerhalb eines Kirchenjahres hervorzuheben. Er dirigiert neben oratorischen Standardwerken auch selten gespielte Werke wie z.B. "The light in the wilderness" von Dave Brubeck. Im Juni 201 5 hat er das Amt des Musikdirektors am Evangelischen Stift Tübingen übernommen. Verteilt auf 7 Semester führt er dort u.a. sämtliche Werke für Klavier von J. S. Bach auf.
Das Konzert ist ein Geschenk von Harald Büttner an die Kirchengemeinde. Der Eintritt ist frei, wir freuen uns über Spenden für die Renovierung unseres zukünftigen Gemeindehauses!
You can get more informationen in our events newsletter: download pdf.

Please note that for all events binding reservation is required.
For reservations or further information please mail to: