Wildmenü
Wir arbeiten mit dem Jäger, Metzger und Fleischdesigner Armin Stark aus Segnitz zusammen ...

Saturday October 24th 2020
At the Rothweinhotel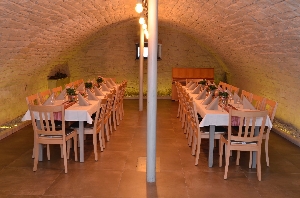 Wir arbeiten mit dem Jäger, Metzger und Fleischdesigner Armin Stark aus Segnitz zusammen und werden kurzfristig mit ihm in Kontakt stehen, welche frischen Köstlichkeiten wir beim Wildmenü für Sie anbieten können.
Ein paar Waldpilze aus der Nähe sowie Kräuter vom Schwanberg werden sicherlich auch dabei sein. Einige Weine vom Weingut Roth sind unseren Stammkunden ja seit vielen Jahren als wahre "Wildklassiker" bekannt und werden unser Menü perfekt abgestimmt begleiten.
Eventpage on Facebook:
Wildmenü at the Rothweinhotel
Wurst & Wild Manufaktur on Facebook:
https://www.facebook.com/Wurstwildmanufaktur/
Please note that for all events binding reservation is required.
For reservations or further information please mail to: