Rooms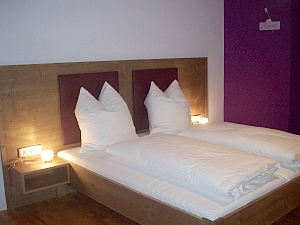 All rooms are equipped with:
bathroom with shower and WC
hairdryer
flatscreen TV (Sat-TV)
telephone (free for all calls to german landline)
free internet access via DSL
fuse
some rooms have a balcony
many rooms have WLAN
some rooms are suited for pets
All rooms can be booked here: Online Booking
All Double Rooms can be booked as a Single Room too.
You're travelling by bicycle or want to go cycling? We also have a bike shed to keep your bikes safe and dry.
Want to bring a pet? No problem, some of our rooms are designated for pet owners, please inform us at booking. (5,- € additional charge for bringing a pet)
You can find detailed photos of the rooms and room prices* by clicking the grape varieties on the left.
We're available from monday to sunday, 7.00 am to 9.00 pm at telephone
09325 / 979408-0.
Rooms are ready to ceck in from 2.00 pm. If your arrivel will be later than 6.00 pm, please let us know, otherwise we may let the room to someone else.
* All room prieces are meant inclusive Value Added Tax.